Personal security in Lagos should be a priority for expats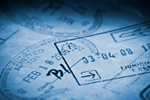 Expats heading for Lagos need to take their personal security seriously.
Nigeria's capital city can be a fascinating place to work or even just visit, but staying safe by adopting sensible security tips is necessary. As a non-citizen, you'll need to apply extra caution in just about every aspect of your visit, whether you're arriving for business or as a tourist. Caution needs to start on arrival at the airport, especially at immigration, where you may be expected to contribute to the officers' Christmas party fund, especially if you're unwisely carrying a good amount of the local currency. Before you travel, have your card provider reduce your transaction limit and, once you've landed, don't give your passport to anyone.
Make sure you've booked your onward transportation with a reputable company, thus avoiding airport taxi touts as well as the dodgy gangs hanging around the roads surrounding the airport. Don't be tempted into any suggested business deals, and avoid cyber-cafes if you can. Cameras and mobile phones should be kept hidden whenever possible, and even if you're approached by someone saying he's a 'security agent', don't give them over. If you're looking to exchange currencies, avoid the airport booths and wait until you're in your hotel. Avoiding 'friendly' locals and always remembering the 'if it sounds too good to be true, it isn't true' saying should at least keep your cash in your wallet.
If you've hired a car, remember to lock all the doors and close the windows when driving, and avoid taking large amounts of cash out of your wallet in public. Taking care on public transportation is necessary, with taking a cab you've booked online the best alternative, and avoiding gatherings of people is essential. If you fancy visiting Victoria Island, do so as part of a group with a registered tourist guide, and remember to dress modestly and only eat foods you're familiar with. Finally, don't book a hotel online simply because you like its looks – check for visitor reviews before you make up your mind.