Expats in Netherlands fight on over 30 per cent ruling transition period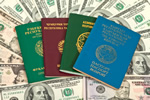 Expat professionals are still fighting the government's shock change of mind on the popular 30 per cent expat tax break.
Expats who chose the Netherlands to start new businesses or take on jobs overseas due to its government's 30 per cent tax break scheme are still furious over the drastic reduction of the valuable benefit. Timing their announcement to just before next week's Netherlands parliament debate on the issue, expatriate campaigners are warning that, should a transition period not be introduced, legal action against Dutch lawmakers will follow.
In July, the Dutch tax minister confirmed the duration of the tax break was to be cut from its initial eight years to five, for established expat professionals as well as for new arrivals. As a result, thousands of expats will lose literally thousands of euros in taxes upsetting many of their carefully planned financial strategies including borrowing to start businesses and buy property. Spokesperson for the United Expats Foundation campaign Jessica Piotrowski told the media a lack of transition period for those affected will result in consultations as regards the legality of the sudden cut.
The group, she said, have opened up a crowdfunding campaign to help cover legal costs, with the supportive response after just a few hours a welcome surprise. Campaigners believe there's power in numbers, with affected expatriates and their supporters proving the belief, with half of the required €18,000 reached within a day. The campaign website says it all – stating that destroying international employees in order to attract more international employers is just plain stupid. 'Is it also illegal' it asks – adding 'let's find out!'.
It's not just expatriates who're fighting the cut, as several opposition parties, two trade unions, universities, employer organisations, tech companies and multinationals are all calling on the Dutch government to reverse its decision. Research has shown the cut will bring on brain drain damage to the Netherlands' reputation as well as having a huge financial impact on literally thousands of expatriate professionals.