UK Brexit white paper creates yet more issues for expats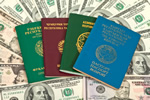 If you're stuck between deciding to leave the UK before March 2019 and staying put whilst hoping for the best, the recent White Paper's stance on the UK expat dilemma may help – or it may not!
Both Britons still in the UK and their counterparts who've made European Union states their permanent home could be forgiven for giving up on planning their futures, as no-one knows what's set in tablets of stone and what isn't. The UK government's recently released white paper attempts to clarify the position to date but one fact is certain – there's no full agreement on Brit expats' legitimate concerns over their future lives. One major cause for near-panic is the continued payment and uprating of the British state pension, with another considered even more crucial – the continuance of free healthcare in the chosen EU country of residence, especially for Brit expats arriving after March next year. In the document, the UK states it wants to maintain both, but admits neither will form a legally acceptable part of the finalised exit agreement – if there is one.
The plan is to agree on a final exit strategy covering the actual 'divorce bill' as well as the Northern Ireland border issue, adding a further 'outline of intentions' forming the basis of added agreements hopefully reached during the transition period. One certainty is that a selection of key benefits may be granted to Brits who head for the EU in future, but the move itself may become difficult or even impossible. Britons already resident in EU member states will have their rights enshrined in the final exit agreement, with the white paper paying at least lip service to securing this groups right to free movement. However, 'onward movement' is not a part of the exit agreement as yet as the EU states it's part of the UK's 'future relationship' after Britain leaves the EU next March.
Campaign groups disagree, saying exercising free movement rights automatically includes future rights to onward free movement. The white paper also states the UK wants to end free movement of EU citizens to Britain as part of taking back control of its borders, but agrees EU citizens should be able to come to the UK visa-free for temporary work and tourism, with a nod to students wishing to study at UK universities via the Erasmus scheme. More 'shoulds' and 'mights' include reciprocal healthcare and pension aggregation rules for expats who've worked in several EU states as well as ensuring the overall recognition of professional qualifications.
For Britons living, working or retiring in EU member states hoping for clarification of their present status, it seems there's nothing much to be gained by the white paper. Worse still, a few downright denials such as May's refusal to include financial services are likely to cause genuine hardship to UK pensioners overseas. The white paper blanks out passporting rights, thus ensuring neither uprated UK state pensions nor work-related pensions can legally be paid from the UK. Assurances of upgrades are no use if moneys can't be sent, and many British retirees rely on their monthly pensions to survive.