New digital bank offers seamless service for expats and business travellers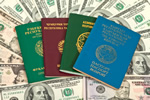 Expats and international travellers are now being offered a global borderless expat bank account.
The new service, christened Denizen, could well be the welcome answer for expatriates and international business travellers as it allows money receipts in one country to be paid out immediately in another country, thus eliminating currency exchange fees and avoiding international transfer charges. Its global banking platform is set to become a life-saver for today's mobile populations as regards managing cross-border finances. Basically, it's straightforward, fast and more affordable than any other option available.
At the present time, national borders are barriers to free money movement and limit the potential for global commerce, according to Denizen CEO and co-founder Joaquin Ayuso de Paul. He describes the service as the first ever borderless bank account allowing access across the planetwide financial system, wherever account holders are in the world. Expatriates and business travellers are all too familiar with the chore of maintaining multiple accounts, transferring money to pay bills, depositing cash, high fees and delays in accessing funds.
Denizen bank accounts offer a non-bank-owned ATM fee debit card, no Forex fees, and a mobile app for 24/7 money management. It's the first product issued as part of a planned series of Denizen solutions aimed at ending the uncertainty, cost and hassle of traditional international banking as it is today. Joaquin Ayuso is the former CEO of Tuenti, Spain's answer to Facebook, and the new bank's initial funding comes from Silicon Valley-based BBVA's New Digital Businesses unit, known for incubating start-ups aimed at fostering disruption in the traditional banking sector.
The digital bank account is aimed at 50 million expats worldwide as well as 250 million migrants, the majority of whom send remittances back to their families in the home country. It's currently available to expatriates in the USA and Spain, and will roll out its services later this year to 10 EU member states and the UK. It's also expected to expand its product base with new banking and credit solutions. Many expatriates are expected to show an interest in the new single platform, customer-centric service, and might well welcome the chance to dump their conventional accounts as a result.