Brexit blessings and curses for expats depend on currency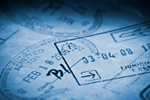 Brexit could be seen as either a blessing or a curse for expats, dependent on the source of their incomes and the currency in which they're paid.
The referendum result had an immediate effect on expat finances due to the fall in sterling, which has continued almost uninterrupted during the chaotic Brexit negotiations. UK expats relying on the state pension have seen falls in real income of up to 20 per cent, making getting by a lesson in hardship for many.
Others living in the EU and with UK-based fixed assets such as buy-to-let properties saw their incomes immediately drop by 10 per cent, with those living in the USA seeing 14 per cent falls.The current weak state of sterling is to the advantage of those whose incomes are derived from outside Britain, especially if they're planning more investments within the UK.
Expats have a hard job deciding how to deal with currency movements whilst making decisions about where to invest, as a 10 per cent increase in investment returns could very well be immediately negated by a 15 per cent fall in the chosen currency's value. Stability is important to many older investors, but invariably means lower profits. UK property is generally regarded as a safe investment as house prices tend to either increase or remain stable in the short term.
The UK is still regarded as a safe, relatively stable place to live, creating an almost unending demand for rental properties, with restrictions on land usage creating price rises when shortages occur at times of heavy immigration. Brexit may change all this, but predictions aren't certainties.
Given the manner in which the Brexit negotiations are, or aren't, proceeding, it's impossible to predict the state of the UK housing market during the next decade. The UK economy may sink, or worse, collapse, causing an immediate fall in house prices, but canny long-term property investors will already be holding assets valued at much more than when they were purchased. Rental yields may also decline, but basically they can be seen as gilt on the gingerbread of capital value growth.