UK state pensioners emigrating overseas must submit proof of being alive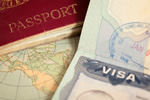 British state pensioners palling their retirement abroad will need to prove they're still alive bi-annually in order to keep receiving their pensions.
The new regulation, stated in Chancellor George Osborne's Autumn Budget speech last week, will also come as a shock to long-term expats who may not be aware of it until their pensions stop arriving. Hundreds of thousands of retirees living in America, Canada, Australia, New Zealand and Southeast Asia will be affected, with the measure introduced to stop widows and other family members from continuing to receive the deceased's pension payments by not notifying the death.
The rule will apply to pensioners living in any country which does not join the 'son of FATCA' notification regime, and those who must comply will need to get an Overseas Life Certificate from the Department of Work and Pensions. The certificate must be signed by the pensioners, confirmed by a third party before being returned to the Department.
The scheme will begin next year and is expected to save some £45 million in its first two years of operation. It has yet to be determined exactly who will be entitled to act as a third-party guarantor for the pensioner, particularly as many British consulates are now refusing to issue similar official documents such as proof of address.