UK emigrant may take case for British expats voting in UK elections to UN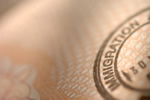 A 90-year-old UK national's campaign to reverse legislation banning long-term British expats from voting in UK elections, is moving forward - and may reach the United Nations.
In 2009, Harry Shindler took his campaign to the European Court of Human Rights; a decision is due to arrive within the next few months.
However, if the WWII veteran is not successful, he is ready to take his file of evidence to the United Nations for a verdict on human rights implications.
It is not "a small matter", argues Mr Shindler, as it has an impact on one million British nationals. There were "hundreds of thousands" of young people who died in World War II so Britons could vote, he says. He was there, he adds.
During the war, people did not know that one day there would be a government which would say they could not vote, said the war veteran. Under British law, expats who have lived overseas for over 15 years are not able to vote in UK elections.
Harry Shindler has not had the right to vote in UK elections since 1997. In 1982, he moved to Italy in order to be near his grandson. However, he cannot vote there either.