Expats warned over online scammers offering UAE visas and jobs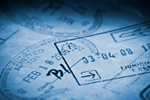 Expats looking to live and work in the UAE are being warned to watch out for visa and job scammers.
In spite of increasing problems caused by the nationalisation of employment sectors, the UAE is still a magnet for expats looking to improve their careers and earn more money.
Unfortunately, not all online job offers and visa services are the genuine article, with fraudsters active across the region and online. One genuine Dubai-based passport and visa provider's details are now being used by scammers duping would-be expats with promises of visas and jobs. The company concerned, VFS Global, is now warning would-be expatriates against falling for the scam. According to a representative from the company, it received no fewer than 560 complaints last year, all citing fraudulent advisors posing as VFS employees and offering fake jobs, visas and work permits in exchange for upfront payments. According to the company, the same scamming patterns are easily recognisable in the majority of the complaints.
The scammers' modus operandum starts with an email stating the recipient's qualifications are suitable for living and working overseas and requesting personal data as well as initial payments, along with a promise of reimbursement once the process is successfully completed. VFS Global's Vinay Malhotra told local press his company does not recruit, offer jobs or provide immigration advice and assistance, adding the communications referred to are fraudulent. The scammers, he said, offer high salaries and over-the-top benefits as well as sending fake job offers without interviews and letters containing an enlarged VFS logo and forged embassy stamps. Others, he said, have received job offers from companies they've never heard of.
Advance payments into personal bank accounts as well as visa processing fees are demanded, and threats of visa application rejection are normal. One Indian would-be expat looking to work in the Middle East has been job-hunting for just two months but has received many fake offers of this type. He's been offered non-existent government jobs, read and rejected dozens of fake recruitment sites and seen many others in his position lose money after replying to the fraudsters.
VFS is urging jobseekers not to reply to unsolicited emails, never disclose personal, banking or passport details and never, ever respond to a job offer which seems too good to be true – it isn't. Those determined to find a position in the UAE are advised to go through the proper channels or use authorised agencies.