British property still favoured as an investment by expats living overseas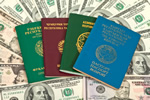 Searches of British property websites are still rising as house prices continue falling.
Overseas buyers are still seeing British real estate as an investment magnet, whether they're UK expats living and working overseas or Brits being forced to return home due to Brexit or other issues. The growth in online searches has been marked ever since the 2016 Brexit referendum result was announced, with the rise in hits still continuing. Since January this year, according to one property portal, activity by potential overseas purchasers has totalled 6.2 per cent of all searches, a 72 per cent increase since March 2016.
It seems overseas buyers are now widening their nets to include other UK regions rather than concentrating on London and the Home Counties. Birmingham and Glasgow now top the must-have lists, suggesting expats forced to return home are planning to head back to their old haunts. Should the pound fall still further due to a disastrous ending to the Brexit scenario, house prices are expected to tumble, with bargains being snapped up by UK expats looking for buy-to-let investments as well as overseas investors in general.
From British expat professionals working overseas on generous contracts to professional investors assembling property portfolios, residential real estate in just about every major UK city including Manchester, Edinburgh, Nottingham and Sheffield may become a target for overseas buyers. Should the worst Brexit scenario become a reality, the market is expected to also be targeted by expat returnees from a slew of European member states' retirement havens.