Essential CV tips for expats chasing jobs in the Czech Republic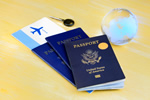 For expat professionals considering a move to Prague, CVs are all important.
Wherever you're planning as your next step on the career ladder, almost all local employers across all desirable locations may well not have the same or similar requirements as regards CV content and presentation. One recruiter specialising in the Czech Republic in general and Prague in particular is offering advice on CV content as regards what to avoid and what to include.
As in many other major European countries, language skills are an important selling point for those wishing to relocate to Prague. However, danger lies in overestimating your proficiency as it can result in embarrassment during interviews with multilingual employers and is likely to get you shown the door. Another frequent mistake by would-be expat employees is forgetting to proofread your CV before submitting it. If you're not totally fluent in whichever language you've highlighted or not certain about your grammar, it's important to have a native speaker review your CV before you send it.
As regards the Prague jobs market, the best format to use for your CV is a Word document. Complicated formatting or clip art can appear odd on screen, as can text-obscuring embedded watermarks which show up on your file. These can make your CV look unprofessional, as does naming your file in an equally unprofessional manner. The tried-and-true motto when writing your CV for a Czech company is KISS - keep it simple, stupid – thus avoiding unintended mistakes and losing the job of your dreams.
As in many other favourite locations for ambitious expats, certain employers in Prague are now requesting details of seemingly irrelevant talents and interests from their potential employees. Examples include personal interests, hobbies, computer skills, whether you are able to drive, and are found in the usual Czech CV after 'work experience' and 'education'. Checking whether you've included a covering letter as well as the required attachments is mandatory if you're desperate for a face-to-face chance to impress.
Oddly enough, a few potential expats actually send their application for a specific job to another company and very occasionally to another country entirely! Your cover letter and CV should include the exact job titles as it appears in the advertisement, if only to avoid making this crazy mistake. Lastly, if a photograph has been requested, the way to go is with a 'passport photo' rather than your latest photographic Facebook selfie, however much the latter shows your friendly personality!