Shock Andalusian election result could impact British expats post-Brexit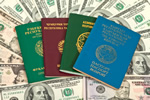 As if British expats in Spain and those attempting a fast move to the Costas don't have enough problems, the rise of the right in Spanish politics could well spell even more difficulties for foreign residents.
After the shock results of the Andalusia elections were announced, former Europe minister Denis McShane sounded an alarm warning the rise of the right could well mean trouble for Brit expats in the region. In the election, the Adelante Andalusia and the leftist PSOE failed to get enough seats to form a government, with the far right VOX party and the centre right Ciudadanos party picking up 12 and 21 seats respectively. Together with the Partido Popular's 26 seats, a right-wing coalition with a 59-seat majority is inevitable. The result was even more of a shock due to the fact that the PSOE had the governmental lead for literally 36 years.
It's as yet unknown exactly what effect a right-wing government might have on British expats in the ever-popular region, with experts suggesting the result will depend on Theresa May's attitude towards Spanish expats living and working in the UK as well as to Spanish citizens wanting to work in Britain after Brexit ends free movement. If May's comment last month about EU citizens no longer being able to 'jump the queue' is taken seriously, the retaliatory result may well be devastating for British expats. According to McShane, the vast majority of Britons living in Andalusia aren't officially registered, as they emigrated under the EU freedom of movement law, using it to open businesses and buy property, always with the blessing of Andalusia's socialist government.
McShane fears that a right-wing administration may well be coloured by open anti-immigrant xenophobia, especially if London makes life in the UK impossible for Spanish students, bar and restaurant owners and other workers. Even if the Andalusian parliament doesn't wreck expat lifestyles, it's possible the Spanish parliament itself could turn on British expats, as the election result was bad news for Spanish PM Pedro Sanchez. He's likely to take a harder line as regards migrants in order to reduce the threat of a repeat of the Andalusian vote in the 2020 general election. Right now, he's maintaining his pro-EU position, but politics nowadays aren't straightforward almost anywhere on the planet.