Residence cards still problematic for Brit expats in France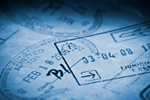 In spite of advice on how to get residence cards before next March, British expats in France are still confused by the process.
Some are asking where they can get correct application forms, but the majority of French prefectures require a personal appearance with the correct paperwork. Some local authorities have online appointment booking services, but for many others, it's a general free-for-all with set periods for application. Where there's a high demand, the advice is to get there well before the office opens. In several prefectures in Burgundy, postal applications are being requested which do require an application form, downloadable from your prefecture's website.
The website has choices dependent on the situation of the applicant, including if a salaried job is being sought or if there's no plan to seek work, and clicking the 'ou s'addresser' or 'where to apply' brings up a notice saying 'application by post is required'. A link is given, taking you to a page asking for further details about your personal situation. You can apply for a five-year duration card or for a permanent residency card requiring over five years' residency in the country. Again, UK expats are being advised to apply as early as possible in order to avoid the rush as Brexit approaches. For new arrivals, the warning is important, as it may take some time for you to get used to the joys of French bureaucracy, especially if your next chore is to get a French driving license.
Your full, recognised home country license is valid in France for one year, although it has to be accompanied by an international driving permit, available from your home country before you emigrate. Your license must be free from suspensions or endorsements and if you've been banned from driving in France, forget it! At present, UK expats can drive on the home country license, but it's anyone's guess what will happen from April next year onwards.
Exchanging your foreign license means another trip to the prefecture office with various documents including your residency card, yet another reason for applying for the card immediately you arrive. Notarised translation of your foreign license and/or your international drivers permit are required, together with your passport and two copies, your application form and two photocopied proof of address pages. Getting several copies of everything is the best idea. Actually getting your hands on your French driving license can take up to two months, and it needs renewal every 15 years.