Top talent expats encouraged to apply for Chinese green card visa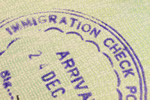 Beijing's launch of its new 'green card' style elite visa for high-talent expat professionals is expected to attract the brightest and best to the Chinese capital.
Applications from expats already living in China can be submitted between 23rd July and 31st, one of the only two slots available this year. First adopted in 2016, the so-called 'green card' visa is based on merit and limited to those at the top of their professions. The merit system only benefits foreigners working on start-ups registered with the Zhongguancun Science Park and other top talent tech professionals hired by Chinese companies located at the Science Park.
Success depends on reviews by a panel of experts of a points-based system including education, age, type of tech know-how and general experience, with those gaining 70 points out of the 100 allocated receiving a letter recommending them for the special visa. Although the visa is limited to top tech talent, it's a guarantee of a stable living situation for those who receive the coveted 'green card'.
Less exalted expat professionals are allowed to apply for permanent residency once they've spent four years working in Beijing and resided in the capital for at least six months of each year. In addition, a salary of over $75,000 and a tax payment of 100,000 yuan is a requirement. In spite of its elitism, those who've been granted green cards have found them useful when getting permanent residency cards and the necessary visas. Faster service in such matters is useful, as Chinese bureaucracy is notoriously slow. To date, some 855 expats have applied, with more expected as Beijing becomes even more popular with tech and science-based expat specialists.