Expats in UAE selling property to buy second nationality via Golden Visas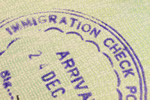 Expats living and working in the UAE are selling their home country properties in order to afford a second citizenship and passport.
According to recently released data, almost half the UAE's expat population have sold their properties in their home countries as part of a bid to obtain a second nationality and passport. Reports state the number of clients applying for Golden Visas through property investments has soared by 67 per cent over last year's figures, with the majority of expat investors living in GCC countries as well as in Pakistan. Some 17 per cent of applicants are parents applying on behalf of family members.
The rush to get a second nationality is believed to stem from increasingly stringent immigration requirements applied by EU member states including the UK on incomers from Arab countries. Top destinations include Spain, Portugal, St Kitts and Nevis, St Lucia and the Dominican Republic, with Spain and Portugal having the added advantage of EU citizenship. Half of the applications are for expats and their families, with some 41 per cent of singles also applying. St Kitts and Nevis is an all-time favourite for its visa-free entry into the UAE and its Dubai embassy. Across the world, Cyprus's Golden Visa is the most popular, even although it comes with a real estate investment requirement of some two million dollars. Recent reports in the Western media concerning the entire Golden Visa controversy have slammed the programmes as a monumental cash grab by the countries concerned, particularly as many don't even state a minimum residency requirement.
Meanwhile, a UAE investigation into unnecessary treatment offered to expat dental patients in order to maximise profits has caused regulators to increase their investigations. According to two whistle-blowing Scandinavian dentists based in Abu Dhabi, one patient was offered treatment at a cost of Dh26,200 when all that was needed were two fillings and thorough cleaning by a hygienist. Unfortunately, hyping unneeded treatments for commercial gain is common practice in the majority of expat and health tourism destinations worldwide, with private hospitals in Southeast Asia considered an excellent investment for the same reasons.