EU expats in UK given hope as Britain concedes cut off date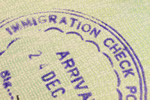 Sources close to the EU's Brexit negotiating team in Brussels are reporting the drastically dropping numbers of EU expats arriving in the UK have resulted in May's stance on fewer rights for EU expats being shelved.
Although no official announcement has been made by the British negotiating team over the change in policy, David Davis and his sidekicks seem to have quietly given up their hardline stance on the rights of EU nationals arriving in the UK at any point in time between now and 2019's Brexit day. The abrupt turnaround has resulted in a guarantee of protected rights for all EU citizens living and working in the UK post-Brexit.
Downing Street was formerly sticking with its decision that fewer rights would be given to EU expats who'd arrived after March 29, the date on which Article 50 was declared. The reason given was the expected 'flood' into the UK of EU expatriates determined to stay, a calculation which has been roundly shot down in flames by a massive fall in immigration from the 27 EU member states.
Diplomatic sources close to the negotiations ae now reporting the UK's softening up on the issue, making it clear that the cut-off date will be Brexit day itself. However, in a manner now becoming familiar to those following the progress of the negotiations, a spokesperson from Britain's Department for Exiting the European Union told the media the specific date was still under discussion as part of the negotiating process.
The unwelcome news that huge numbers of EU medical professionals are quitting the NHS, along with an equally massive fall in the number of those arriving to join is proof the UK is no longer on EU nationals' wish lists as an emigration destination. Industrial leaders are beginning to express their concerns over worker shortage, with a survey of over 600 businesses in the UK's food chain sector suggesting around 33 per cent of EU expat employees have left since the Brexit vote. Another 50 per cent said more of their workers were planning to return to their home countries due to the uncertainties of remaining in the UK post-Brexit.