Expats looking to buy repossessed properties overseas warned of pitfalls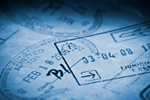 The drastic fall in property prices in many favourite expat destinations overseas is tempting for would-be migrants with homes to sell in the UK as well as for expats on the buy-to-let trail.
The boom in property prices in the UK coupled with the massive fall in real estate prices in many Mediterranean hotspots is tempting many disenchanted Brits to move abroad earlier than they'd planned. It's also providing opportunities for expats looking to put together a portfolio of buy-to-let holiday homes.
Spain, Portugal and Italy have all seen drastic falls in house prices, especially in repossessed homes, often seen as an opportunity to undercut costs still more. However, care should be taken by potential buyers as regards investigating the reasons why repossession has taken place.
Position, position, position is as important for buy-to-let properties as is it for residential homes, with villas in poor locations unlikely to attract holidaymakers or other short-term renters. Finding out the reasons behind the repossession is essential, although banks may be reluctant to disclose whether non-repayment of a mortgage is involved.
If the chosen property is part of a development, are features and amenities as originally promised still provided, and are uncompleted parts of the development or condo block on schedule and likely to be finished as expected. Checking all paperwork relating to building permits, residential permissions etc, is crucial, especially if you're considering a Spanish property.
Always use your own independent lawyer, even if you're purchasing from a bank, and make sure a valuation is carried out. Getting to know other expats in the area is a good way to ensure you're making the right decision.