Tips on getting your expat life back after the pandemic shuts down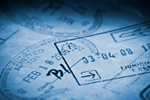 As expats all over the world tighten their purse strings in fear of losing their lucrative positions, what's the best way to survive this emergency?
Whilst life goes on as normal in the world of work, saving for emergencies is the last thing on expats' minds – until an unheard-of event straddles the planet and destroys overseas residents' sense of security as well as lives. After six months or more of fear and confusion, it seems the virus's contamination is slowing down, but how many expats are determined to financially prepare for another such devastating threat?
One reaction to any threat, especially if jobs are at risk, is to batten down the hatches and economise obsessively until the norm returns. Unfortunately, at the present time, no-one seems to have any idea of how the norm will look, or even if it won't return. For self-employed expats, maintaining a healthy cash flow is essential, but how to do this during a country-wide as well as worldwide lockdown isn't found in any instruction booklet.
The obvious ways to stay relatively solvent overseas involve forgetting about sending a proportion of your salary back to the home country, not making expensive purchases and keeping your cash under your belt are all just that – obvious. For those needing more help, some countries are offering financial assistance in cases of hardship, but expecting business to go back to the way it was isn't sensible at the present time.
In the Gulf States, a good proportion of expats as well as residents are taking huge hits to their income, or losing that income entirely. In both cases, being frugal is essential and, for those working at home, the lack of transport and eating out costs can encourage careful spending. Getting rid of the home help is a dilemma, as her wage is probably essential for her family, but cutting her working hours at least gives her some income.
Salary cuts can be managed if care is taken, but if you're losing your job it's essential you insist on your end-of-service settlement. This can be tricky if your employer's business has permanently closed down, but remembering that the company has had to set aside funds to be used as a reserve in emergencies can ensure you get at least some of what you're owed.
If you're in funds due to careful budgeting, now's the time to buy your rental property if possible. Using your savings as a deposit and taking out a long-term, affordable mortgage is cheaper than renting and gives the reassurance of capital gains when you sell. It's also a stopgap should your cash flow vanish, as you can rent it out in order to pay your mortgage.
New, inexperienced investors should beware of the increasing number of online scams, especially those encouraging their victims to work from home, all of which should be avoided at all costs. It's far less risky to come up with a niche idea and start your own online business. All it needs is skill in marketing your idea, a few reliable contacts and a knowledge of your market, and the UAE can help facilitate new start-ups.