Expat arrivals in Germany confused over dual healthcare insurance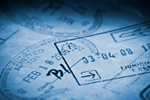 If you're heading to Germany to take on a new job, health insurance is high on the must-do list.
The major issues of moving to a new country include adjusting to an unfamiliar culture, learning a new language and taking on board new laws and regulations. Once you've actually arrived and are settling into your new routine, you'll be faced with arranging your mandatory health insurance, a task which will introduce you to German bureaucracy at it's most confusing.
Historically, Germany has two parallel insurance systems, with the public system dating back to the 19th century when it was introduced by Otto von Bismarck. The insurance was intended to provide cover for employees working in less than safe conditions in factories, mines, mills and other such locations. Over the decades, eligible groups were expanded to cover a far larger selection of workplaces and many more trades. However, other sectors such as students, public officials, business owners and the self-employed had no cover until private insurers seized the opportunity and created Germany's system of private health insurance.
Nowadays, just under nine million German nationals as well as expats are covered by private medical insurance, with the remaining 73 million covered via one of the 110 GLV public insurers. German law is clear that any person, expat or German national, who's covered by Germany's 'social insurance obligation' must join the GKV system. This includes employees, artists who're members of the KSK, students and those in receipt of unemployment or other state benefits. Expats not on this list can join the GKV voluntarily if they've switched from employee status to self-employment, freelancing or are on a family plan but have lost membership.
Under the GKV system, premiums are calculated as a fixed percentage of the applicant's income, normally around 18.5 per cent. Employers cover half that amount, whilst self-employed workers pay it in full. Premium limits are set at 160 euros as a minimum and 850 euros as a maximum. As regards private healthcare cover, rates depend on age, state of health and amount and scope of coverage chosen. Public insurance coverage is regulated by German law as regards which treatments are allowed, with private insurance coverage determined via a contract showing what's covered and what isn't. However, most contracts contain a clause stating updating must cover new procedures.
Basically, those on lower salaries will go for the GKV cover, whilst those on PKV coverage will save money on advanced treatments. Also, private PKV cover ensures a private room, faster appointments and improved dental care, and is the preference of the majority of expat professionals living and working in Germany.