Expat life in the Philippines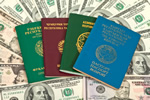 With all the coronavirus chaos going on across the world, finding a peaceful, friendly, English-speaking location is getting harder by the minute.
For many would-be expatriates, finding the right location for a permanent move can be tricky as regards ticking all the boxes leading to a conversion from dream to reality. These difficult days, a low cost of living is usually high on the list of must-haves, followed by friendly, English-speaking locals and warm, possibly even hot, weather.
Another relatively important factor for many British would-be expats is the community itself, with the Philippines now becoming a favourite for refugees totally disenchanted with Brexit Britain and pandemic lockdowns. For years, a trickle of Brits arrived and kept the good news to themselves, but the trickle is now growing and starting to resemble a flood aimed at replacing former favourites such as Thailand and Cambodia with this beautiful archipelago. Immigrants on the basic UK state pension will have enough for a basic lifestyle, especially if they've opted for a new home on one of the more remote islands.
Overall, the country is one of contrasts between bustling cities and deserted beaches backed by small, local communities. There are more than 7,500 islands to choose between, although several in the southern sector including Mindanao are considered unsafe due to unrest. One all-time favourite with Brit expats is Cebu with its three million inhabitants, Western style shopping malls, efficient transport and reasonable costs. In the vast majority of communities, Christians, Buddhist and Muslims live side by side without any religious or racial prejudice spoiling the exotic atmosphere. Across the archipelago, Tagalogue is the official language, but the vast majority of citizens also speak English, albeit with an occasional American accent!
The Philippines' overall weather pattern is tropical, with hot and dry conditions for most of the year, and the occasional monsoon rains fall between June and November. The downside is typhoon season, along with the occasional earthquake and a few cyclones. For techies, the country is one of the planet's leading users of the internet, with services as good as in many Western nations. For those looking to work, the pay is low by Western standards but matches the cheap cost of living and, for those looking for a comfortable retirement, the ultra-friendly locals will welcome you like long-lost family members.