How will the pandemic affect expat properties in Spain?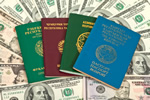 Expat homeowners in Spain are confused as to the pandemic's effect on the property market.
Over an incredibly short period of time, dozens of countries across the world are now in lockdown, flights have been suspended and an enemy is attacking and killing innocent citizens as well as expats. No, it's not WW3, it's covid-19 which is wrecking businesses, causing worldwide lockdowns and wrecking dreams of owning businesses, retiring in comfort or working in a new land.
Spain has always been a favourite for Britons looking to kiss the UK's miserable weather goodbye and emigrate to sunshine, warmth, new friends and a totally new, easily affordable new lifestyle. Buying a home overlooking the Mediterranean was the dream for many but the pandemic's attack on Spain has potential and actual house owners wondering what effect it'll have on real estate.
Obviously, the Spanish property sales sector is now shut down, with those who were attempting to sell their homes and return to a post-Brexit UK out of luck for an unspecified time in the future. The longer the pandemic rules, the longer the upheaval for both realtor businesses and those hoping to buy or sell. Those selling buy-to-let properties are in the worst situation, as overheads and mortgages still need paying and income from short as well as long term rentals is unlikely to continue.
Although the Spanish government is bringing in mortgage relief strategies, they'll only be related to primary homes owned by those classed as 'economically vulnerable'. For expat residents who lose their jobs, those whose self-employed or small business earnings drop by over 40 per cent and those whose total family income falls below €1,613 monthly, benefits may be available. However, few full-time expat residents or business owners are expected to be able to qualify.
Real estate agents along the Costa del Sol are predicting short term pain followed by the property market's return to normality, but all depends on how long the coronavirus pandemic lasts and the effect it will have on the world economy as well as its Spanish equivalent. For those with holiday homes, making certain they're properly secure is essential, as squatting has proved an issue during the good times and is expected to return as the economy declines.