Tips for new expat arrivals on finding affordable Tokyo rentals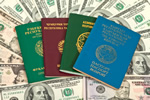 For Western expat professionals relocating to Tokyo, finding suitable, affordable accommodation can be tricky at best.
Two major issues for expats on reassignment to Tokyo are the language and the hassle of finding suitable accommodation. The vast majority of expats in this fascinating mega-city are supported as regards accommodation as part of a relocation package, but finding the right home at the right price isn't just about the money, especially as the majority of expat arrivals include the family as well. For singles, it's tough enough to conform to both Japanese housing regulations and the unique culture, but those arriving with a wife and children should expect far higher stress levels as a result.
Finding a suitable apartment without being able to either speak or read the fiendish Japanese language is difficult, and many landlords simply aren't prepared to rent to foreigners due to both sides' inability to understand each other. In addition, there are very few Tokyo-based real estate agents working with expatriates. Those who do are mostly single-owner concerns working on a commission basis, with the reward taking precedence over the need to find the right property for each prospective expat tenant.
Tokyo is infamous for its soaring rental and real estate prices, and not every expat arrival receives a mega-salary with a more than satisfactory relocation package tacked on. In fact, outside the fashionable central district, there's a wide choice of rentals at around 200,000 yen a month, an amount which should suit a good proportion of new expat arrivals. Online forums suggest the best way for new arrivals to get a good deal as regards rental accommodation is to post their requirements online and ask for recommendations from expats who've been there and done just that.