Identifying home as a serial expat travelling between two destinations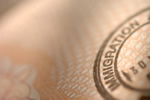 How do serial expats cope with continually moving between several destinations?
Wherever in the world expats decide to live, the feeling of 'home' is an important part of settling in and adjusting to a new culture and new experiences. For long-stay expatriate professionals, it's all part of the game but, for those staying for a few years, moving on and then moving back, it can be confusing and even distressing. In many ways, it's the human condition which forces us to make wherever we are our home, but in this age of frequent repatriation, it's a tricky task.
One expat who'd recognised the dilemma wrote that when she was in Dubai she missed being in her birth country of New Zealand, but when she was back in NZ she missed her life in Dubai with its international community and overall ambience. The all-embracing, totally multinational UAE experience includes friends from all over the planet, with all the difference and diversity adding to the fun. In addition, in more than one way, Dubai is at the centre of everything whilst stunningly beautiful New Zealand is far out at the edge of what's now seen as civilisation.
For women who choose the expat life, it's even more difficult as friendships mean different things for females than they do for the male of the species. The UAE and Dubai are considered as safe as it gets for women and, although New Zealand isn't in any way as dangerous as a good number of other world countries, it could possibly be seen as boringly safe. Another major difference is hospitality, with the emirates and Dubai in particular winning hands down, especially regarding international cuisine, and Dubai's weather is the perfect setting for year-round pool parties as the perfect place for relieving the stress of tending for a career.