World's most expensive expat destination reveals itself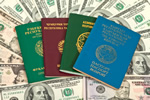 Expats living and working in the USA are being hit hard by surging inflation.
If you're considering taking a job based in the USA, you'll need to be certain your expatriate salary covers your needs, as inflation is now rampant almost everywhere in this favourite destination. The main culprit is the ultra-strong dollar's effect on imports, and this doesn't look as if it's going to change in the near future. As many as 28 American cities are now ranked in the top 100 most expensive world cities for expats, with eight in the top 50.
It's no surprise that New York is back in the top 20 listings as regards the cost of living, but the world's most expensive city for expat life is one the majority of job-seekers may not even have heard of. Emigrating to the Turkmenistan city of Ashgabat isn't recommended on a cost basis, and its location in an earthquake-prone region between a desert and a mountain range may be spectacular but may not be comfortable. However, one benefit is that the country is no longer part of Russia.
Tokyo is again in the top five most expensive expat locations, ranked at number two, but is worth every yen spent in its spectacular cities and at its historic sights. The three Swiss cities of Zurich, Geneva and Basle took the third, fourth and fifth rankings followed by Hong Kong, but how long the Asian city will last without being swallowed up by its massive neighbour is anyone's guess.
Switzerland accounts for one more listing, with Bern in at seventh, followed by the two Japanese conurbations of Yokohama and Nagoya at eighth and tenth places respectively. Osaka just misses the top the most expensive list, coming in at eleventh.