Namibia joins the contest for wealthy long-stay expat retirees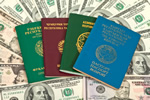 Wealthy expatriate retirees with a taste for adventure may now have the opportunity of a lifetime.
The Southern African state of Namibia is already a favourite with travellers for its world-beating dramatic scenery, but settling down in the country as an expat retiree is fraught with mind-bending bureaucracy. Even those intending to invest significant sums in a business are weighted down with requirements, making attempts by expat retirees almost guaranteed to fail. However, as other world countries open their doors to the spending power of retirees, Namibia is attempting to join in the rush by next year.
In an announcement made last August, the country's Home Affairs Director for Permits, Passports and Visas told the press the new move is intended to attract wealthy expatriate retirees able to make significant investments as well as utilising their spending power within the country. However, at the present time, no exact details of how much cash is needed and the nature of the investment itself are available. It seems the demand for residency permits is mostly being fuelled by German expatriates, but the government is fully aware of the socio-political risks of giving away residency in exchange for high-end property purchases.
As well as fat bank accounts, applicants will be expected to prove their good international standing as well as being prepared for a high level of cultural integration. Due to Namibia's soaring unemployment rate, those with business plans including job creation would be especially welcome. It seems the scheme will depend on the interpretation of Section 26.3 of Namibia's immigration control act, as key sections have issues which need clarification, but a lack of official guidance as well as procedural consistency is holding back the progress of the new rules.
Other problems involve immigration as a whole as well as cross-border trade, although what the trade issues have to do with encouraging wealthy retirees to settle in the country isn't as yet clear. In the meantime, the present-day two year skilled worker visa is to be extended to cover a five year stay, a positive move intended to attract tech professionals and workers in the knowledge industry. One major advantage for expats is that Namibia's capital Windhoek is the 6th cheapest world country for living expenses, meaning those on a fairly basic pension can afford a satisfactory lifestyle with a few luxuries thrown in for good measure.