General Election expat votes under threat again due to projected postal chaos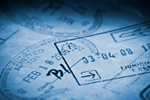 Expats' postal votes are under threat yet again due to a lack of time between the candidate details list release and the polling date.
Hundreds of thousands of British expatriates all across EU member states are being urged to ask relatives or friends back in the UK to become their proxy voters in the upcoming General Election as the only alternative to losing their chances to vote yet again. According to electoral administrators, there's no chance that printed voting packs will be ready in time to be sent overseas, filled in and returned by the actual election date. Proxy votes are the only way for Brit expats in the EU to register their votes, just as was the case in the referendum itself and in the last general election called by Theresa May.
For Britons desperate to retain their rights as given to EU citizens, missing out yet again on a crucial vote after the past three years and more whilst being used as bargaining chips in the Brexit negotiations is a step too far, with anger already surfacing in popular European expat hubs. As regards the proxy voting forms, living overseas is a viable reason for requesting the facility. The vote is made by a friend or family member, using a special card authorising the holder to vote on the expat's behalf.
Some three million British expats are living throughout the EU, with some 250,000 registered to vote, and the vast majority don't want to be forced to repatriate to the UK under any circumstances. Many are retirees, traditionally supporters of the Conservative party, with chair of Conservatives Abroad Sir Geoffrey Clifton-Brown MP telling the media he will instruct the party's HQ to target its overseas voters. Sir Geoffrey also admitted the short pre-election period was likely to pose problems for all overseas voters, no matter which party they support.