Eliminating the negatives in the search for an expat retirement haven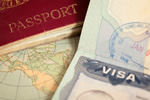 Retirement overseas isn't the best choice for every would-be expat, but how do you decide whether it's right for you?
Saving for an eventual retirement is an excellent idea, as long as you're careful about the advice you receive, but the actual decision as to where to spend your leisure years is based on more than financial requirements. There's not much point in becoming so fixed on saving that you confine yourself to a miserable life whilst you're still employed simply because you're dreaming of retirement. The answer is simple – retire where your pension and capital goes further.
Western would-be expat retirees tend to head for the known quantity of holiday destinations such as Spain, France and Italy, whilst their USA compatriots head south of the border to Latin America. The sad fact is that, in all the above, inflation and currency instability is souring a large number of expat dreams and the thought of another move or, worse still, a return to the home country can be devastating. Chasing reports of even lower-cost destinations isn't easy, as much on the web dates back several years or even more, and the present day political instability can play havoc with exchange rates.
Identifying your needs and comparing them with your wants is a start on the road of finding out exactly how much – or how little – you need to live a comfortable life overseas. Listing priorities such as property, transportation, dietary preferences, private healthcare if necessary and the status of local medical care if not is a good start, and allowing yourself a few luxuries or treats is a positive idea. The elephant in this particular room is inflation and there's no magic wand able to predict its percentages and timing. Investigating the possibility of a part time or online job can cover your back as regards one-off expenses and even visits back home to see friends and family.
Attitude is all-important in this search for retirement heaven, with those seeing emigration as an exciting new adventure rather than a forced exit from the known quantity of their country of birth having the best chance of success. If your glass is 'half full' rather than 'half empty', you're looking for everything that's rewarding about the somewhat scary process of becoming an expat. Making the decision to move overseas in the hope of finding a more acceptable version of what you're leaving behind is certain to end in disillusionment and disappointment.