Why choose the Emirates over all other expat professional destinations?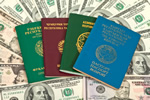 Out of all the world destinations for ambitious expatriate professionals, why choose Dubai and the UAE?
These days, the entire world is every expat's oyster, with amazing opportunities just a flight away from the home country. The dawn of the internet age changed the rules for those adventurous enough to consider living and working overseas, and the present generation of entrepreneurs and experts are taking full advantage of modern-day mobility to chase their dreams in unfamiliar lands.
For those in the oil and gas sector, the 'sands of Arabia' become a home from home as the modern age fossil fuels became black gold for the states under which they'd lain buried for countless millennia. Nowadays, the Emirates, Saudi Arabia and the rest of the oil-producing nations are still havens for expatriates determined to boost their careers as well as their bank balances. Dubai and Abu Dhabi are favourites, but what makes them more special than other Gulf States?
The UAE as a whole is a fast-forward ticket to a major career-boost for expat talent, with new opportunities and more responsibility the goal for new arrivals. Native English speakers hold the wild card for success, as both Dubai and Abu Dhabi are now global business hubs for many other sectors apart from oil and gas. Salaries are tax-free in the Emirates, and tax-free shopping, eating out and all other activities cost less than you'd expect as a result. Even expats' savings are tax free.
Set in the Arabian desert on the Persian Gulf's southeastern coastline and backed by the mountains, Dubai is all it's reputed to be as regards luxury living. The city itself is well-planned as it literally started from scratch some 40 years ago, and is a modernist's dream for its imaginative architecture as well as a travellers' dream for its international airport. It's also the safest place in the entire Middle East for residents, expats and visitors as its crime rate is almost non-existent.
Its strict laws occasionally get bad press for overkill on the part of police or immigration authorities, but they keep the city and its inhabitants well protected. Dubai is incredibly multicultural, acting as a melting pot for globalisation across its entire community, with scare stories in the Western media overstressing the entire issue of cultural values. Expats can buy their favourite tipples as long as they get a state liquor license first, wear what they like away from sacred grounds and mosques, and enjoy loving relationships without holding hands in public.
All in all, the Emirates are popular with expat professionals for their business and career potentials, but they're also a way to live life to the full in a unique environment after realising it's not just all about the money.