Adjusting to expat life in Canada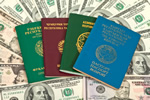 Adjusting to Canada's cultural norms can be tricky for expats arriving from horizontally laid-back countries.
For some strange reason, Canadians aren't seen to be as pushy and self-promoting as their southern neighbours in the USA, but newly arrived expats unused to 'selling themselves' soon realise it's necessary in order to get a good job. It seems Canadian nationals believe they're the best on the planet, meaning expatriates need to emulate them to be taken seriously as employees!
Canada's major cities are examples of the fast-paced, high-pressure lifestyle common in major Western countries, along with their very own aggressively assertive culture. Most newly arrived expats soon learn to fake it, even although it may be foreign to their true natures, with landing a good, well-paid job soon becoming a reality. As a result, Canada is now a favourite for expats looking to enjoy the grand-scale outdoors as well as growing their careers in a challenging work environment.
Economically speaking, Canada is rated for its disposable income, quality of life, wage growth, potential savings, property and career growth, all of which are enough to keep expats there for the long-term. The cost of living is lower than in several European countries including Germany, and housing as well as free healthcare is of a high standard. The long winters may well be freezing cold, but summers are warm and the autumn season is spectacular in the rural regions.
The huge difference in seasonal temperatures takes getting used to, but most incomers get to love the winter scene for its outdoor ice-skating rinks and other snowy activities such as ice-hockey and skiing. Due to Canada's large cities being multicultural melting-pots, the worst effects of culture shock are avoided, with Canadian nationals seen as friendly but somewhat hard to get to known really well.
Socialising is laid-back and easy, but finding friends for life can be a challenge. Life is faster-paced than in many popular expat destinations, but getting away from it all on short breaks amid Canada's spectacular Rocky Mountain scenery gives time to readjust and enjoy this unique land.