Thailand looking to replace Western expat retirees with their Indian equivalents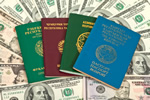 Having done their best to rid the former 'Land of Smiles' of those annoying Western pensioners by causing long-stay visa chaos, the Thai government's plan to keep the money rolling in is to encourage Indian pensioners to replace them.
It seems Thailand's tourist and immigration authorities have found a solution to replace the millions of baht no longer being spent by Western expats and retirees forced to leave due to the latest change in long-stay immigration rules. Tourism Authority of Thailand officials have been targeting Indian visitors as well as retirees 55 years old or older by promoting the country as an ideal destination. It's a tried and true method of attracting long-stay visitors on hefty pensions, first seen well over a decade ago as a successful attempt to attract Western expats.
Last weekend, Thailand's tourism authority held a big event in New Delhi aimed at tempting wealthy Indian seniors to visit the country and enjoy an 'Amazing Thailand Golden Experience'. As well as encouraging more tourists to visit, the end game is persuading them to retire in the country, bringing their pensions and savings with them. Featured were top attractions such as boutique hotels, Michelin-starred restaurants, world-class spas and luxury cruises, with asides such as learning to cook Thai food and visiting local fresh markets as a quirky add-on along the lines of 'how the rest of the country lives'.
At the same time, TAT announced an expected hike in the numbers of tourists arriving from the sub-continent, predicting some 10 million annually by 2028. Visa entry has now been made easier for Indians as well as visitors from 20 other countries via the introduction of e-visas on arrival. A survey by an online expat forum aimed at Westerners taken some six months ago found fewer than ever before numbers of Westerners arriving, as well as a decline in the numbers of working expats. In addition, many long-stay expats are now leaving the country for good due to the recent visa changes, the strong baht, inflation and a perceived increase in xenophobia.