Expat professionals looking for quality of life prefer northern locations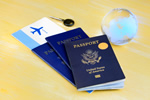 If you'd prefer to stay in Europe to develop your career rather than head for exotic locations, you've a good choice of destinations.
Liveability is one of the most important aspects of research into the best destination for your career move. Surveys can help would-be expatriates make up their minds, with the latest celebrating Scandinavia and northern Europe as the regions with the most liveable cities. ECA's international study report concentrated on rankings identifying cities with the best quality of life and the most generous social welfare provisions.
Copenhagen and the Swiss city of Bern took the top spot out of 20 of Europe's most liveable cities for European expat professionals. The two won out on their easily available, high quality healthcare services, their lack of political tensions and the important issue of personal safety, and their generous social welfare programmes enhanced expats' quality of life. Other plus points included reliable public transport, excellent infrastructure and their long-term reputations as excellent destinations for salaries and career enhancement opportunities.
Outside of Europe, Canada performed well in the survey, with Toronto the most popular location followed by Vancouver, Ottawa and Montreal. All four beat out former favourites such as London, Glasgow and Belfast, and Asian cities with the exception of Singapore weren't at all popular with expat professionals looking for quality of life and safety and security. Singapore's strength is its large expat community and its overall use of the English language in both business and leisure. In addition, poor air quality, high levels of heat year-round and equally high levels of crime were seen as detrimental to the expat quality of life in the vast majority of other Asian destinations.