Expat investors buy entire Spanish village for ?150,000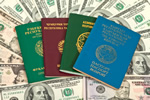 A deserted Spanish village included in Hollywood actress Gwyneth Paltrow's Christmas wish list has been purchased lock, stock and barrel by a Dutch couple.
The tiny village of Lugo in Galicia is set in the Eo Valley and comprises just a few buildings including a 350m2 house, a granary, two haylofts and a few more structures scattered around the valley. Even so, the price of just €150,000 seems like the bargain of the century for the lucky purchasers. Apparently, the Dutch couple are part of a slew of investors combing the backwoods in Spain and looking for abandoned hamlets deserted by their former occupants in favour of the tourist-heavy coastal resorts and big cities. Some 3,000 such tiny villages are believed to be scattered across the country, with only a few for sale as yet due to the necessary paperwork.
Some 70 per cent of buyers arrive from Belgium, the UK and France, and the Spaniards themselves have also caught onto the investment potential of these remote, ruined villages. According to one realtor managing a number of such sites, a couple from Malaga have just purchased another Galician hamlet, paying just €60,00 for a total of 15,000m2 of land, six cottages and an already established EU grant of €200,000 towards renovation. It's not just expatriate buyers who're suddenly taking a strong interest in deserted Spanish hamlets ripe for renovation, as around 20 Spaniards are coming forward every month, hoping to prove they have a stake in the remote semi-ruined villages.
Asking prices per hamlet have risen by between five and 10 per cent over the past year, and one specialist realtor now has 110 villages up for sale. Average prices range between €200,000 and €450,000, although larger villages in better condition in already popular areas can fetch up to €7 million. For expats looking to take the chance of a lifetime, the bureaucracy takes time, and potential buyers should avoid villages with over 10 Spanish property owners due to the impossibility of ever making a deal which would suite everyone!