UAE expat poll shows dissatisfaction with financial advice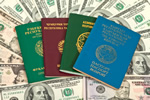 Just as the UAE's finance ministry launches new regulations, a poll of expatriates has revealed 32 per cent don't trust IFAs.
The CFA Institute study centred on the trustworthiness of financial advisors working in the UAE, with its results identifying a significant gap between the expectation of investors and their satisfaction with the relationship. The survey revealed more than half of the total number of 3,000 retail investor expats working in the emirates used a financial advisor, whilst less than one third believed advisors are trustworthy and just over a third simply assumed they are reliable.
The region's expat financial advisory industry is facing a raft of government reforms to the way they work, with both the Central Bank and the UAE Insurance Authority issuing outlines on changes to the way investments and savings products are sold. The notices include plans to cap total payable commissions on insurance-linked products and the banning of charges such as fees for advice and trailing commissions on products sold. In May, the Central Bank told all finance companies and banks they must amicably resolve all disputes concerning outstanding mis-selling complaints within 90 days.
Both authorities acted in response to a high number of customer complaints involving expensive fixed-term savings and investment plans. Fees are a hot topic due to the high number of expensive financial products, with many stating they should reflect the value of the advisor's recommendations. Founder of DeadSimpleSaving.com Steve Cronin told the media he'd like to see more expat investors becoming less trusting, as too many are still being scammed into buying totally unsuitable long-term savings plans. These he said, are badly invested, expensive and very difficult to get out of.
Cronin also recommends only dealing with IFAs who have reputable and advanced financial qualifications. Advice, he says, should be totally transparent about commissions, fees and all other costs, and should ideally move away from a commission base towards either hourly rates for advice or platform fees. He believes that, once the temptation of upfront commissions is removed, the need to earn by providing good service and out-performance of suggested investments may well take over. In addition, the sale of complex insurance-based products disguised as saving plans should be stopped.
<!--%%%GBP%%%-->
<!--@@@GBP@@@-->