Algarve property market unsure about Brexit effect on expat buyers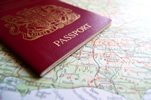 Real estate businesses in Portugal's popular Algarve region are divided as to the Brexit effect on sales.
Portugal's Algarve region has always been a popular destination for British retirees, both for its warm weather and its long-established expatriate community. Nowadays, the Brexit threat seems to be both putting off many who'd intended to emigrate and encouraging those whose intention is to desert the sinking UK ship before it capsizes. For estate agents in the region, British buyers are their lifeblood, but there's fear the gravy trail will stop rolling over the next year.
For a number of agents, 2018 has been the best year ever, with properties being sold almost immediately they've been listed, whilst for others it's been the complete opposite. For the lucky ones who'd assumed a massive negative impact after sterling crashed, British buyers not only arrived, but are now buying more homes than ever before. Another Brexit impact would seem to be that buyers are making their minds up almost immediately, rather than taking time to decide between several properties. Realtors believe it's because Britons feel the need to secure a home for their future retirement before Brexit makes everything far more difficult as regards bureaucracy.
The potential investment value of a Portuguese home is also being taken into account by British buyers spooked by rumours that Brexit will result in a slump in UK house prices. One agency based in the region has doubled its sales over last year's totals, but feels potential buyers are now beginning to hoard their nest eggs against the threat of a no-deal Brexit. Right now, it's anyone's guess as to what's going to happen, but one thing's or sure – should no-deal become a reality, there'll be long queues of Brits desperate to get out before it's too late, with the Algarve happy to oblige.