Choosing the right expat retirement destination by testing it out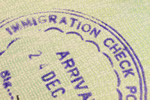 Every would-be expat retirement dream is just that – a dream until it's been sampled.
There's only one way to find out if your chosen place for the rest of your life isn't a terrible mistake – give it a try before you make the final commitment. Maybe you believe shutting down your life in your home country and taking up temporary residence half-way across the world is simply too much hassle, but it's not half as much trouble as changing your mind after you've burned your bridges and settled permanently.
Most retirement havens allow extendable, shorter term visas, and letting out your house whilst you're away gives you more cash to play with as you explore your potential new country. According to expat retirees who've gone through this selection process, Panama is as good as it gets as it gives a choice of cosmopolitan city, Caribbean beach life and cooler retirement havens in the mountains. It's easy to rent accommodation in an attractive location for six months or more, giving you plenty of time to decide whether you've found your new home or not.
For those to whom city life is where it's at, Panama City is world-class and boasts a year-round mild, hurricane-free climate, reasonably-priced rentals and a ready-made, international expatriate community. Upscale Punta Paitilla district lies on the Bay of Panama, and property rental prices are at present lower than in recent years. Panama's mountain towns are cooler and greener than the coastal strip, with Boquete the most popular with expats even although it's six hours' drive from the airport. Closer is El Valle, set in rolling hills and well-known for its fine choice of restaurants and inexpensive rentals.
If an offshore island beckons, Bocas del Toro is the best choice in the Panama archipelago for its pristine beaches, bustling town centre and friendly locals. Many of the available homes here boast eco-friendly construction, and the island is home to expats of all ages from a variety of countries, many of whom are attracted by the inexpensive cost of living. The only downside is rain, some 120 inches every year, but again, it's outside the hurricane belt as is the rest of Panama.