Spain still number one for British expat retirees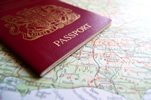 Although the number of Brit expats in Spain is falling fast, the country is still Britons' number one favourite for retirement.
Statistics compiled by a leading international removals company placed the long-term expat favourite at number one in its data on UK emigrants' European destinations. Some 13 per cent of their clients were heading for Spanish sunshine, beaches and a new, less stressful life. The company's 'dream move table' rated both Australia and New Zealand as second favourites with fleeing Britons, with each country the destination of 12 per cent of expatriating Brits.
Surprisingly, the USA attracted 10 per cent, although it's possible the majority were emigrating for work reasons, and Canada was the final destination for nine per cent of emigrants from the UK. Italy was the choice of seven percent, with France less popular than previously and only attracting six per cent of the removal company's clients. Analysis of the data showed age is a major factor in determining a suitable destination, with younger adults heading mostly to the Middle Eastern Gulf States to make their fortunes. Older adults and those already retired prefer the serene, spectacular beauty and stress-free lifestyle of New Zealand, with 14 per cent heading there to enjoy their retirement.
Britons who've spent their lives in the beachside towns of England's south coast seem to prefer to stay close to the ocean, preferring the Italian shoreline to more exotic locations. Londoners head mostly for New Zealand and Canada, and the USA is still a popular destination in spite of its political headaches. Australia is still up there as a destination, with 10 per cent of the company's customers heading to the sub-continent's major cities. A spokesperson for the company suggested the surge in prime-time TV shows featuring world-wide destinations may influence choices, as can property listings and prices on websites such as Rightmove. The survey's real surprise was the 16 per cent who didn't want to move anywhere as, for them, the UK has it all, from varied landscapes through green spaces, coastal views, moorlands, mountains, farmlands, historic cites and rural beauty. Its one major drawback, the British weather, wasn't even worth a mention.