Scandal of British frozen pensions heads to Westminster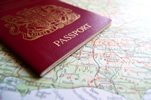 British PM Theresa May is under pressure to end the scandal of expat frozen pensions.
An unequivocal message to 'do the right thing' by ending the scandal of British frozen state pensions for UK expats is to be delivered by Anne Puckridge, 93, a WWII veteran who served in all three branches of the British armed services. Mrs Puckridge will arrive from Canada to speak at an October 31 Westminster meeting between MPs and supporters of ending the scandalous denial of rights to retired expat Britons. In a media interview, she pointed out that Theresa May had promised to 'end all burning injustices affecting British society', adding she will simply tell the PM to do the right thing by paying expat pensioners the amounts they'd worked all their lives for.
The convenient and continuing excuse for the scandal is that 'there is no reciprocal agreement with Canada or other such countries, therefore the increases are not paid'. Mrs Puckridge had worked as a lecturer and retired at the age of 76 in order to join her daughter and her family in Canada. Had her daughter taken up residence in the USA, her mother would have received annual increases in her UK state pension as the UK has a reciprocal agreement with the USA. It's also been made very clear by UK lawmakers that new reciprocal arrangements with other countries are not on the cards either now or in the future, boding badly for British pensioners living in the EU.
Campaigners have continued to point out that, simply by moving overseas, British pensioners are saving the state a great deal of money. It's not just a pensions issue, it's also the NHS, social security benefits, winter fuel and TV licence payments, travel passes and much more. Added up, these benefits come to far more than the amount in VAT paid by pensioners on food, utilities and suchlike. The petition started by Mrs Puckridge's daughter Gillian Mittins has now received 210,000 signatures, enough to trigger a hearing in parliament.
Senior Conservative lawmaker Sir Roger Gale is chair of a cross-party group supporting the campaign and has organised the October 31 meeting. He's also warned that Brexit will put a further million British retirees living overseas at risk of losing a considerable amount of their retirement funds due to the frozen pensions scandal. Another Tory MP, Peter Bone, has also suggested the rule shows bias against Commonwealth countries such as Australia, adding it's totally wrong that those who've earned their pensions over a lifetime of employment should be prevented from taking full benefit, especially as, at least at present, Brit pensioners living in EU member states are receiving the annual triple-lock updates.