Chinese government eases rules on coveted expat green cards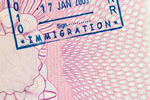 Since 2016, the Chinese government has been gradually easing the expatriate requirements on its coveted green card permanent residency permits.
Given that Chinese immigration's annual visa renewal as well as its initial entry requirements aren't exactly straightforward, it's no wonder a green card is the dream of the majority of expats living and working in the country. However, up until two years ago, the coveted visa was one of the most difficult to obtain anywhere in the world. Chinese immigration authorities weren't thrilled with it either, as its requirements and bureaucracy were a nightmare, causing semi-permanent backlogs within the Public Security Bureau.
It has to be said the process isn't perfect as yet, but the introduction of a new-style card with a machine-readable microchip has helped its users, and the gradual easing of applications is making life less stressful for the authority's workers as well as opening up the visa to international professionals across a wide range of sectors. The break point occurred in 2016, when permanent residency was granted to 1,576 foreigners, an increase on the previous year of 163 per cent.
One happy expat who, together with his native Ordos wife, runs a school in Inner Mongolia, didn't experience many problems when he applied, with the entire process taking just over a year. Aaron Patterson and his wife came to China in 2017 in order to start a school after working in the UK for nine years. The project flourished, with Patterson eventually deciding to seek permanent residency. At first, he was told he'd need to have been awarded the Nobel Prize to have half a chance of realising his ambition, but he ploughed on anyway.
Before long, he found the local government going out of its way to be supportive and helpful, checking all his documents before they were submitted and advising him on details. As informed, his green card was presented to him just over one year later, leaving him to concentrate on making the school even more successful. Head of the Centre for China and Globalisation Wang Huiyao believes China's easing of the rules illustrates the country's immigration office is now opening up and becoming more flexible towards expatriates in order to continue with reform plans and attract even more top talent to the country.