Barclays dumps UK expat credit card holders in Portugal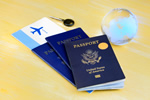 UK citizens holding Barclaycards and planning to emigrate to Portugal for purposes of work or retirement are being advised to change their card provider a.s.a.p.
Anger is rising in Portugal's UK expat community against Barclays Bank for its arbitrary decision to demand UK addresses from holders of its card or face account closure. Customers, many of whom have banked with Barclays for years, have received emails as well as written correspondence from the bank giving a deadline for proof of a UK address. The move follows a previous attempt by the bank in 2014, when 39,000 expat clients who'd not used their cards for six months or more were contacted.
The bank's reply to media questions about the move was that it regularly reviews its policies, with changes now made to the list of eligible countries for expat residents with personal credit card accounts. Supported countries now include Northern Ireland, Scotland, Wales and England, France, Germany, Spain, Bermuda, Jersey, the Isle of Man, the Caymans, Australia, Gibraltar, Jersey, Guernsey and, believe it or not, the Falklands. Social media is having a field day, with expats in Portugal especially angry at a Barclays' spokesperson's comment that 'we value all our customers' business'.
Some are claiming their cards are already blocked in spite of the deadline, and others are lamenting the loos of being able to buy online using a credit card. The Algarve is a popular destination for UK retirees, many of whom use the internet to buy items not easily available overseas as well as ordering gifts for family members back in the home country. The worst scenario for those without a UK address is that account closure will result in British state pensions being lost until an account with an approved local bank is opened.
Barclays' statement to the press urged those with problems to contact a given number for advice on options open to them, which would seem only to include upping sticks and moving to a country which has the approval of the bank or learning to live without the advantage of a credit card. It seems not to have occurred to the bank to give a reason why Portugal is now blacklisted, and why it did not take into account the damage to British pensioners' lives their decision would cause. Even those who pay off their credit card balances monthly are concerned about having to carry large amounts of cash prior to making a major purchase.