Brit expat couple blame Danish banks for eight years of hell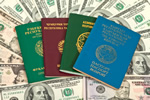 Following a successful lawsuit which saved their home from being seized, a British expat couple in Spain can't forget the years of hell they suffered due to two Danish banks' crooked and callous behaviour.
British expats Eric and Mary Mould are disgusted by the callous behaviour of representatives of both Sydbank and Nykredit, both of which lost their case against the couple just several days before their home was due to be repossessed and resold. The two Danish banks had won the first court case, but lost the Mould's appeal in a landmark ruling which forced them to pay €500,000 and allow the couple to keep their Marbella home. The judgement stated neither bank was allowed to sell equity-release mortgages in Spain in 2007.
The Malaga appeal court ruled the couple's mortgage was a clear case of mis-selling of a product banned in Europe for several decades, in addition to the facts that Sydbank was unauthorised to operate in Spain despite having an office in Fuengirola and Nykredit was not licensed to provide loans for investment purposes. Originally, the couple wanted to release equity of €150,000 on their €1.5 million home, but were persuaded to up the requirement to €1.2 million and invest one million through Sydbank's Swiss branch after being promised they'd earn enough interest to pay down the original loan.
However, Sydbank's mismanagement of the investment lost over 50 per cent of the full amount, leading Nykredit to call in the loan and foreclose on the Mould's property. In spite of the court ordering the remaining funds to be repaid to the couple, they are now in the Swiss bank account of a Sydbank subsidiary which recently declared bankruptcy. In addition, Nykredit are still attempting to fight the appeal court judgement in Brussels by objecting to the ruling. The couple's lawyer told local media the two banks had acted and are continuing to act appallingly and with unbelievable arrogance.