Mexican lakeside haven is affordable expat retirement hub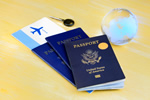 If you're looking for a retirement hub outside the EU, you could start by investigating these two Mexican lakeside cities already popular with US expats.
Chapala and Ajijic are both bordered by Lake Chapala, Mexico's largest freshwater lake and are just a 45 minute drive to Guadalajara, the country's second largest conurbation. The two cities' surroundings are simply beautiful and have attracted an expat community of some 8,000 to date. Spanish is the official language but, for those less than proficient in languages, it's not absolutely essential.
The expat community in the region is long-established, meaning there are plenty of organised social events and groups encouraging you to make new friends and find new things to do. Naturally, the area attracts retirees due to its affordable cost of living, with eating out costing a maximum of around $30 for two including wine, and the local vendors and regular street markets sell locally-grown fresh vegetables and fruit at great prices. There's a variety of housing options in the region, with a choice of gated communities, condo blocks and even traditional Mexican homes dating from the colonial era. Rental prices range between around $500 a month for a two-bedroomed condominium to several thousand dollars for a luxury pool villa with views to die for.
Local fundraisers attract a strong expat following, and volunteering is a popular way to spend time helping the local Mexican community. Parades, concerts, plays and other entertainments give regular dates on which to have fun and meet new people, and the weather is great, especially for expats from more northern climes. For those wanting to use their talents to become active in the community, there are groups working with disadvantaged children, dogs and other animals as well as with the disabled. All told, it's a huge lifestyle change, especially for expats from the UK and continental Europe, but it's a positive alternative to staying in the home country and wishing you hadn't!