British expat retirees worldwide feel the pain of shrinking sterling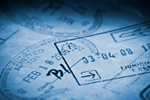 Brexit's effect on sterling has eroded the spending power of hundreds of thousands of British expats worldwide.
Whether they're struggling on an already less than generous UK state pension, have top-ups from personal pensions or are receiving an income from investments, the reality is that the value of their monthly incomes has fallen by an average of 20 per cent. Those in employment overseas whose salaries are paid into an offshore sterling account are in exactly the same position. Expats living within the Eurozone are most affected, but inflation is also taking its toll via rising prices across the world.
Countries formerly popular with Brit expats due to their low costs of living are no longer at bargain basement level as increases in services and goods are passed on to citizens, expats and visitors alike. The Eurozone's average inflation rate at present is around 1.5 per cent, but in some member states it's much more. Thailand is a favourite with British retirees looking for warm, sunny weather and an inexpensive lifestyle, but its considerable numbers of British pensioners have taken an 18 per cent cut in their monthly incomes.
Those who chose South Africa are losing 15 per cent, and those in Canada, Australia and New Zealand are attempting to cope with a 14 per cent spending cut. It should also be remembered that, in the above expat destinations, the British state pension is frozen from retirees' dates of departure.
There's no doubt that hardship amongst British retirees in many world countries exists as a result of the devaluation of sterling following the Brexit referendum, but the British government is refusing to upgrade all frozen pensions using the lack of agreements with foreign governments as an excuse.
According to the Department of Work and Pensions, emigrating retirees should have allowed for the freezing of their pensions and made suitable financial provisions to make up the annual shortfall. Given that pensioners, once they've left the UK, are no longer being supported by the government's health, social services and extra benefits, the DWP's comment is nothing short of deplorable. Admittedly, British expats have always been at the mercy of fluctuating currency exchange rates, but former falls in sterling were not linked to deliberate, direct action by a British government determined to push through a possibly disastrous decision based on an 'advisory' referendum, no matter what the consequences.