Choosing your expat destination based on the local cuisine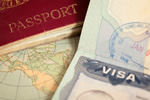 Would-be expats who simply love their food have a great choice of favourite destinations, some of which are amazingly inexpensive.
Local cuisines may well be the first consideration for committed foodies when compiling a list of favourite overseas expat destinations. Given that one man's meat is another man's poison, the huge variety of international cuisines often features strongly in would-be expatriates' wish lists. Every country has its own gastronomic delights, whether they're based on the weather, famous local produce or the average income of the locals.
Over the last few decades, Asian foods have risen to prominence in the West as great cuisines in their own right, with Vietnamese dishes now recognised as healthy, mostly non-fattening and absolutely delicious. Hi Chi Minh City is a hub for culinary excellence, with its varied dishes originating in and influenced by everything from Mongolia through China and even France during its colonisation of the country. The beauty of this inexpensive cuisine owes everything to its use of ultra-fresh ingredients, varied textures and locally grown herbs.
France's Lyon region is known as the gastronomic capital of the country for its rich, delicious dishes and hearty, filling main courses. It's also known as the food capital of the world for the culinary genius of its chefs, especially when dealing with pork, local sausages, seafood, game and chicken. Michelin stars abound here, awarded for serving versions of the rich, rustic local favourites such as Coq au Van, and Saucisson de Lyon.
On the opposite side of the world is the unique cuisine of Japan, relying on fresh seafood, tender meats, amazing salads and the most stunning presentation of edible goodies in the entire world. Sushi and Sashimi are world famous, but never, ever, taste the same outside their country of origin. Every region has its own specialities, with Kyoto's famous Kaiseki traditional cuisine unforgettable and utterly delicious. Shojin Riori, the vegetarian cuisine of Japanese Buddhism, is equally unforgettable, based on natural flavours, ingredients at their height of freshness and simplicity of presentation.
According to Italians, their cuisine 'sings in the mouth' and never more so than in Florence. Whether you're enjoying market food or Michelin starred specialities, eating is one of the major delights in this beautiful, historic city. Street food is at its heart, known as 'chioschi', and is authentic, fresh and amazingly inexpensive. For traditional, rustic eateries, San Sebastian in Spain's Basque country is as good as it gets and is known as a gastronomic Mecca for its famous tapas equivalents. Inexpensive in the main, the city is a hub for social eating, especially in its historic old quarter's restaurants.