China offers expat job prospects but withholds quality of life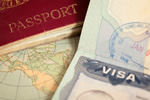 China is the new kid on the block as regards expat destinations, offering good job opportunities but falling short on quality of life and settling in.
It's only in the last several decades that China has become a serious expat destination drawing huge numbers of mostly younger professionals and entrepreneurs to its ancient land. The recent Expat Insider survey gives a glimpse into the formerly closed country, with most respondents rating it for career advancement and business start-ups. The average age of Westerners who responded to the survey was 40 years, with two thirds saying they were in a relationship.
Economic opportunities are the name of the game in China, with 70 per cent saying they were happy in their work. The same number praised the country's attitude to economic prosperity, compared with the global average of just over 50 per cent. Unfortunately, job prospects aren't all-consuming for expatriates, with China crashing to the 55th spot out of 65 countries surveyed due to its lack of quality of life, family life and ease of getting settled.
Poor healthcare and education also played a part in its disappointing ratings. Pollution and its effect on the environment caused concern in a number of respondents, although the result may have been slewed as most expats live in huge cities rather than in China's huge swathes of countryside, now mostly deserted as whole villages move to the cities for work. At present, China is implementing desperate measures to lessen its cities' clouds of toxic pollution, the worst of which occurs over the capital, Beijing, affecting the health of expats and citizens alike.
According to official data, some 900,000 expats are now living and working in China, a sharp increase from the 1980s figure of around 10,000. China doesn't as yet seem to have taken on the financial advantages resulting from an ever increasing expat population, as many newcomers are complaining about the lack of medical and healthcare infrastructure. Other, smaller countries in Southeast Asia have locked into health tourism and expat healthcare as a cash cow, whilst China's provisions seem to be at a standstill.