New Zealand trucking companies in hunt for expat HGV drivers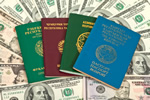 Road transport companies in New Zealand are in need at least 400 Class 5 licensed heavy good vehicle drivers to solve a shortage which is harming the sector's economy.
A recent study by the Kiwi Road Transport Forum has revealed 112 haulage companies are unable to operate their full fleet due to lack of suitably licensed drivers. Only 230 of the Forum's total membership of 4,000 replied to the survey, indicating that shortages may be far more severe than the partial results show..
According to Forum head Ken Shirley, training for local drivers with basic car licenses takes on average three years before a heavy goods vehicle license can be granted. Shirley told reporters that firms are being forced to employ immigrants in order to fulfill their existing contracts, adding that 15 per cent of drivers employed in some larger fleets are from overseas.
Shirley said that last year's removal of class 5 drivers from NZ Immigration's skills shortage list was a serious mistake on the government's part. He believes the move was made in order to force haulage firms to take on the country's unemployed, without consideration being given for the time it takes to train new drivers.
One trucking company owner told local media that 20 of his 150 drivers had arrived from India and Fiji, along with several Kiwis who'd returned from Australia to work locally. Even so, he added, I've got 10 trucks sitting idle as I've not enough drivers.
Another said he had trained 15 Kiwi drivers since 2006, but still needed to hire from abroad as all 15 had now left the company. Whilst class 5 drivers were on the skills shortage list, immigrants working with established haulage companies could apply for permanent residency.
After the category was disallowed, trucking operators began finding that drivers from overseas were having problems renewing their annual work permits.