Buying an affordable traditional home in Japan's countryside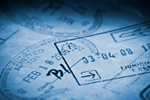 For expats in love with Japan, buying an abandoned old house in the country is the way to go.
Every would-be expat looking to find a dream home overseas has read of abandoned homes and even entire villages being sold for miniscule sums on condition of their renovation within a set period of time, but few are aware that the same amazing deals are available in a far more exotic destination known for its ultra-expensive real estate. Japan has fascinated Western expats for at least a century, but it's far easier and more affordable to live there than many realise.
It's the same story as in Europe, with young people leaving their traditional villages to work in Japan's mega-cities and never returning permanently as they have no interest in old houses and village life. The homes they left were built of wood to shelter generations, and are mostly structurally sound, but usually need extensive repair and being brought up to modern standards. They're inexpensive because they're not wanted, and the value of a home in Japan lies in its land, not in any structure.
One couple who've been there and done that reported their traditional, now-restored wooden home in the countryside has little value, even although it's constructed from natural materials unavailable nowadays. Having found their dream property, it was the owner's responsibility to clear out anything the buyers don't want, some of which could well be classified as antique and much of which were kept by the couple. Another pleasant surprise was that the neighbours, all of whom were retirees, were exceptionally friendly and helpful, generously donating plants, decorative stones and a bonsai tree.
The now restored traditional farmhouse was the perfect place for the couple to relax during Japan's recent coronavirus lockdown, as it kept them in touch with nature and growing things, thus calming their fears and keeping them calm however bad the daily news. In most rural areas, foreigners can purchase old, abandoned traditional homes at an affordable price, dependent on the location. Just $20,000 can be enough, although foreigners can't get mortgages, and some town councils keep lists of almost-free or even free homes.
Expats are allowed to buy houses and even land in country areas, and no permanent residency visas or citizenship are necessary. For retirees, the only available visas are aimed at tourists and are granted for three months, but are renewable simply by leaving the country and re-entering. For expats who love a challenge and have always been fascinated by Japan, this is the real deal.