Using lockdown time to determine your next expat destination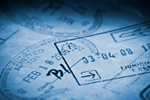 For expats who're at present trapped in another lockdowned country, planning your future location can while away the hours.
Expatriation is like a drug to many seasoned world travellers, with a huge choice of diverse countries out there waiting to be explored. From digital nomads to expat professionals, moving on is something to look forward to rather than to fear, and time spent researching a list of possibles isn't time wasted. Luckily, there are many websites which provide comparison information on just about every possible destination, some of which may need a world map in order to discover their exact location.
Where's best for each individual depends on wants as well as needs, and the dream can come true if the choice is informed. One such website recently listed the best ten destinations on the planet for expats needing a permanent change of routine and scenery. In at number ten was Vietnam, a comparative newcomer to the expatriate world and increasingly popular for its colourful culture and welcoming locals. It's praised for its work/life balance, its financial security and its genuinely welcome environment.
Although the UAE is already crammed with expats, mostly in Dubai, it's been popular for several decades for its high salaries and job opportunities. The lifestyle in luxurious and the culture isn't as restrictive as some believe. Back in Europe, Germany hits the spot for its culture as well as its career advancement prospects, lifestyle and comprehensive social security packages, and it's tops for expats with families.
Turkey is yet another relatively new destination for ambitious expats looking to absorb a fascinating new culture. It's easy to enter, has welcoming communities and career progression is possible. Children have a choice of good schooling options, and families can be sure of friendly neighbours. Australia awaits British expats fascinated by the other side of the planet and its stunning natural environment. It's an environment in which good health can thrive due to its focus on outdoor activities.
Laid back New Zealand's famous for its stunning natural beauty as displayed in the Lord of the Rings movie trilogy, with new expat arrivals saying it's even more stunning in real life. Quality of life and well-being are its most important offerings, and political stability underpins the lifestyle. Spain is perhaps the best known location for British retirees as well as professionals with families. Its quality of life is as good as it gets, although the pandemic has hit hard on expats and residents alike.
Canada is praised for its developmental potential as regards business as well as local life and a genuine welcome to expats from across the entire world. Tolerance is the name of its game, allowing ease of settling in and rooted in political stability. Finally, Singapore is Asia lite, with an unbeatable reputation for wage growth, job security and an amazing selection of world cuisine in its many markets. For expat families, excellent education is easily available if pricey, and its fascinating history makes it a unique destination for ambitious expatriates.