How to stay relevant as an expat SME during these tricky times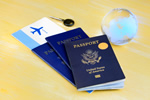 If you've only just got your expat business up and going – what can you do to ensure it doesn't become just another victim of the virus?
If you've recently arrived overseas and started your expat business, you'll have realised this situation is unprecedented and crammed full of challenges you didn't include in your original business plan! The first thing to remember is that, although you're at present in social isolation, this is the 21st century and your content doesn't accede to any limits. In fact, there are many strategies you can employ to make certain your marketing has kept you in the limelight during the closures.
For those who weren't born holding a smart phone or a mouse, relying on online content often comes as a shock. Many retirees decide on an online business to supplement their pensions, but a good number don't grasp the importance of communication in this field. In fact, social isolation is driving millions to use their computers for almost everything, meaning that SMEs who're communicating well are ensuring they're still be in business after the virus is long gone.
For expats who've slightly larger enterprises with several employees, it's a hard decision to let staff go, and harder still to replace their input with your own version. Regular updates are one way to stay in touch with clients, whether individuals or other SMEs, and thinking virtually involves familiarising yourself with stuff such as virtual product launches, live streaming webinars, videos and even tutorials. Brainstorming with yourself as regards new ways to connect with your old and new customers is essential in these difficult days.
Deciding on and instigating a short-term strategy for the next three months or so will focus your mind on the next steps to safeguard both your investment and your dream, and using social media to its full extent will keep your eye on the ball. Blog posts work well, as do FAQ's, although mass emailing needs more careful thought. Right now, the temptation is to publish everything to do with the pandemic and its effects, but you'll be one of countless millions who're doing the same along with every online newspaper on the planet. Overkill doesn't help, especially when expats are heading up on their list of must-reads. Put simply, don't add to the deafening noise on the subject.
Creating content based on individual client profiles works far better and leaves the bad news until it's totally relevant to your business. Nowadays, life and its everyday communications has entirely shifted to an online mode, meaning every SME business should have an online strategy. Sharing relevant and valuable content with a target audience needs care as, done insensitively, it can soon become spamming. Oddly enough, doing too much to advance your online presence is also a mistake, as it can resemble aggressive selling of services and products, a strategy which often offends. Basically, to ensure you're still in the fight once everything calms down, adapting and staying helpful and relevant is the best survival strategy.