Where does Brexit leave Brit expats in the Overseas Territories?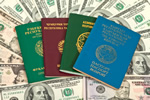 Brexit may not be over and done with for Britons looking to relocate to one of the British Overseas Territories.
Post-Brexit Britain isn't the only British territory about to be changed by the outcome of the Brexit vote result. For decades, the UK's Overseas Territories in the Caribbean have drawn expats to work and eventually retire under the British flag but without the dreary British weather. Many believe the UK's return to the EU is inevitable, as younger Brits are now far more European than their parents. In addition, separate referendums in Scotland and Northern Island are very likely to result in both rejoining the EU under their own colours, and even Wales is expected to eventually demand the same.
Should the above dismal scenario become a reality, Britain will be left on its own along with its Overseas Territories, should they actually decide to stay. Given the choice between a post-Brexit, possibly USA dominated UK and full, autonomous membership of the European Union, predicting the result isn't rocket science as British expats in the Territories will have been watching the UK shrink into just another small country and not liking what they're seeing. Expats already living in the British Virgin Islands have already noted the mother country's changing attitude towards its overseas citizens, with independence as a subject for debate and discussion becoming heated and partisan.
The world at present seems to be merging into super-states, but expat residents in the islands and those thinking of relocating from the UK mainland are worried that single, island nations might be at risk of unwelcome takeovers. Well-informed islanders are noting that the UK now has an authoritarian government convinced it owns the British parliament, and are considering the prospect of all British Overseas Territories in the Caribbean joining together as a single pre-union bloc. Achieving this before the UK itself dumps its OTs is the aim, and many Britons who've had enough of post-Brexit Britain might well be tempted to join with a new coalition in a stunning corner of the expat world.