Expat job seekers warned Bangkok may be moved elsewhere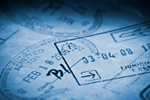 If you're considering taking a job in Bangkok, you should factor in the Thai government's wish to solve its dangerous air pollution by moving Thailand's capital to another location.
In spite of rumours to the contrary, Thailand's capital is still a good destination for expat career enhancement, high salaries and a reasonable if increasing cost of living. However, whether the reason is global warming or not, the city's pollution is now almost permanently at danger levels due to the effects of heavy traffic and continuing construction, even in the now drier than normal rainy seasons.
Thailand's military junta government has set so-called 'safe' pollution limits at 50 microgrammes of the pollutant PM2.5 per cubic metre of air, but average daily levels are at around 70 microgrammes. Officials are advising residents should keep wearing masks as well as avoiding going outside, and the government is urging manufacturers to make more anti-pollution efforts, but the situation is showing no signs of improvement.
Junta leader and Prime Minister Prayut Chan-o-cha recently took to Facebook to urge more action, but residents were too busy coughing to take much notice, according to one office worker. The PM is now mooting moving Bangkok to another location, telling members at the World Conference earlier this autumn there are two options.
According to Prayut, the first solution might be to find another location a reasonable distance from the present city, thus saving money on the massive move, with the second to move the bulk of businesses in central areas to the outskirts in order to reduce crowding. More research, he added, is needed before any official announcement is made, but the move in either direction might well take place whilst his administration is still in power.
For expats on contract to international businesses in present-day Bangkok as well as the businesses themselves, the resultant chaos might well make the Brexit effect on London-based companies look like the proverbial walk in the park. Such a move would result in massive relocations outside Thailand, cause chaos on the stock market, repel tourism and hit the Southeast Asian country's economy and currency where it hurts the most.