Asian city destinations no longer inexpensive for expats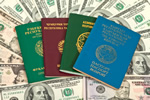 Over the past decade or so, Asian destinations have gained in popularity with expat professionals, but increased costs of living are now biting hard on salaries.
Over the past ten years, many Asian capitals have seen an increase in the numbers of expats arriving to work and take advantage of favourable exchange rates allowing an improved lifestyle. However, it now seems that top destinations are now in a grip of currency-related inflation, curbing their popularity.
The first to see its popularity ratings change is Singapore, now the planet's 13th most pricey city due to its strengthening currency. In addition to its global ratings rise, the city state is now Asian's seventh most pricey expat destination, coming out above Macau, Shanghai and Seoul. According to financial experts, even although Singapore's rate of inflation is still low and its global trade growth is weakening, the strength of the Singapore dollar is harming its reputation as a favourite for expat professionals.
Officially, Tokyo is now back as Asia's second-most expensive location as well as eighth most expensive in the world, with Osaka, Nagoya and Yokohama now sixth, fifth and fourth in Asia. Prices in Tokyo are expected to rise still further due an increase in consumption tax as well as the effects of the 2020 Olympic Games, ensuring it's still ranked above Hong Kong well into 2020.
Due to the ongoing protests, Hong Kong ranked third most expensive in Asia, with inflation staying high and the recession beginning to bite. Interestingly, the world's as well as Asia's most expensive city is one the vast majority of expats may have never heard of – Ashgabat. The Turkmenistan capital's soaring inflation and its black market currency are to blame, with the dodgy money's rate far weaker than the so-called official exchange rate. Several Thai cities were judged as becoming more expensive, with Bangkok entering the top 50 locations for the first time at no.47, mostly due to the soaring baht.